navigation Research PI Bio Group Publications Resources Imaging Contact the lab
affiliations: UCLA Biochemistry Molecular Biology Inst. Jonsson Cancer Center Brain Research Inst. UCLA
weather in LA:


lab members - postdoctoral fellows
Geng Wang
Joined lab in: 2006
PhD Universirty of Iowa
B.S. Xiamen University (China)
Email link
The goal of my research is to understand the mechanism of cell death induced by mitochondrial DNA loss in yeast mutants and characterize the biogenesis of mammalian mitochondrial import machinery. Another aspect of my research is to understand how proteins fold into their functional structures under physiological relevant conditions such as mitochondrial compartments using single molecule spectroscopy.


Deepa Dabir
Joined lab in: 2006
PhD University of Pennsylvania
B.S. St. Xavier's College (Bombay, India)
Email link
My research as a graduate student focused on determining the role of astrocytes in the pathogenesis of tau based neurodegenerative disorders. We utilized mouse as well as cell culture models to assess if tau inclusions in astrocytes ('sick astrocytes') would affect the viability and function of neurons. In the Koehler lab, I am currently involved in a synthetic lethal genetic screen to look at possible deleterious interactions between hot13 and other genes. In my free time I enjoy cooking, reading, hiking and watching NBA.


Yavuz Oktay
Joined lab in: 2006
PhD University of Texas Southwestern
B.S. Bilkent University (Turkey)
Email link
For my PhD research, I worked on the Hypoxia-Inducible Factor (HIF)-2alpha and its role in mitochondrial function. We utilized mouse models and mammalian cell lines to study knockout phenotypes of the protein. In the Koehler lab, I am currently exploring mitochondrial protein interactions in a yeast model system. I enjoy working in lab and I don't have time for much else, except playing soccer!


lab members - graduate students
Sonya Neal
Program: Molecular Biology Institute
Joined lab in: 2007
B.S. University of California San Diego
Email link
As an undergrad at UCSD, I worked with Dr. Theodorakis in order to synthesize analogs of fluoro-butenolides that are further tested for anti-viral activities. Over the summer in my third year, I worked with Dr. Koehler and investigated the redox state of the mitochondrial intermembrane space (IMS). Finally, I worked with Dr. Farquhar in order to characterize a novel G protein and its role in mitochondrial fission and fusion. My current research in the Koehler lab involves characterizing redox properties of proteins involved in mitochondrial import. If Iím not in lab, I enjoy running, playing basketball, watching reality T.V. and eating cookies!


Meghan Johnson
Program: Biochemistry & Molecular Biology
Joined lab in: 2008
B.A. University of Pennsylvania
Email link
As an undergraduate at Penn I worked in Mitch Lewis' lab designing a heterodimeric lactose repressor capable of recognizing a non-symmetric DNA binding site. As a graduate student in the Koehler lab I am using zebrafish as a model organism to study the phenotypes and pathogenesis of a few genetically-encoded mitochondrial myopathies and disorders involved specifically with the electron transport system. By studying these myopathies in zebrafish I hope to elucidate the mechanistic differences that occur within patients harboring these mutations. In my free time I enjoy dancing, skiing, reading, and major league baseball!


Wei-Siang (Moses) Liau
Program: Biochemistry & Molecular Biology
Joined lab in: 2008
B.S./M.S. CalPoly Pomona
Email link
During my masters, I worked with Dr. Craig LaMunyon to characterize a mitochondrial DNA deletion in Caenorhabditis elegans. Specifically, I examined how the deletion affected metabolism, lifespan and sperm performance. Presently in Koehlerís lab, I am attempting to knockout several genes involve in mitochondrial respiration and biogenesis in zebrafish and characterizing several mutant fish lines with mitochondrial defects. The goal of my graduate research is to examine mitochondrial assembly in the zebrafish model system as a basis to understanding human diseases such as deafness/dystonia syndromes and cardiac myopathy. I enjoy eating Susanís desert, playing tennis, jogging, watching anime and reading.


Juwina Wijaya
Program: Biochemistry & Molecular Biology
Joined lab in: 2008
UCLA
Email link



lab members - additional
Geizhar Ramirez
Undergraduate Researcher
Joined lab in: 2008




past lab members

Link to past members of the Koehler Lab

lab photos 2005 Group Photo: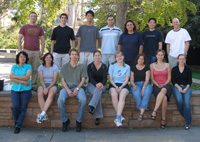 2009 Group Photo: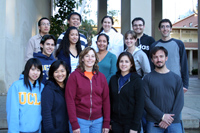 2011 Group Photo: